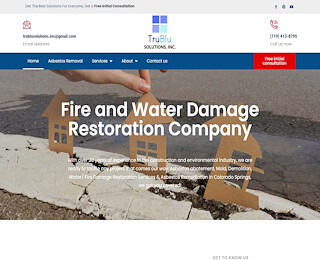 Reach out to TruBlu Solutions for asbestos remediation in Colorado Springs when you want professional results. We offer a free initial consultation to provide an opportunity for you to discuss your circumstances with our team. If you've found asbestos while working on a building project or suspect the presence of asbestos, get in touch with us immediately to protect your building, staff, workers, and the environment. Call TruBlu Solutions at 719-413-8795. When it comes to asbestos testing services or asbestos and lead removal, our name is one you can trust.
5 Compelling Reasons To Choose Us For Asbestos Removal
1. We follow all government laws and regulations to ensure the safe handling and removal of asbestos from your property. Our team understands that there are strict federal and state regulations and guidelines that must be followed closely when handling, removing and disposing of asbestos materials. Count on TruBlu Solutions when you can't take chances with the outcome of asbestos removal services.
2. Asbestos is found in more than 3,000 building materials, from glue & tape to insulation and flooring. Knowing where to look for traces of asbestos is just one of the many ways that our knowledge and experience will work in your favor when hiring a company for asbestos remediation in Colorado Springs. Request a free quote for asbestos abatement and removal services when you call our helpline today.
3. We provide asbestos testing for a true indication of whether there are traces of asbestos in your building. The first step in requestions asbestos inspection and remediation services is to make initial contact with our team by phone or through our website.
4. Are you worried about a remediation company coming in and leaving your workplace in shambles? TruBlu Solutions will clean the area of dirt, debris, and dust when we're through with the job at hand. After we've completed our work, we'll remove all equipment and clean the area one last time before packing up and leaving.
5. We'll put a plan in place before we begin removing asbestos from your building. Best of all, you'll receive a copy of our plan that will highlight every detail of how the area in question will be treated. Our work plan will detail local, state, and federal laws and explain how we will abide by these laws during abatement work.
Why Professional Asbestos Removal Is A Must
If not carried out correctly, removal of asbestos can lead to exposure, which can lead to health issues, including mesothelioma, a rare cancer due to asbestos exposure, even over a short time frame. Make sure the company you hire for asbestos remediation in Colorado Springs is highly credentialed, experienced, and knowledgeable in all areas of hazardous materials removal. For best practices, hire pros from TruBlu Solutions. We'll take the time to speak with you over the phone and discuss your upcoming project involving asbestos remediation and removal; call us at 719-413-8795 or get connected with our experts through the TruBlu Solutions website.
TruBlu Solutions Inc
719-413-8795
7425 Antelope Meadows Cir
Peyton CO 80831 US